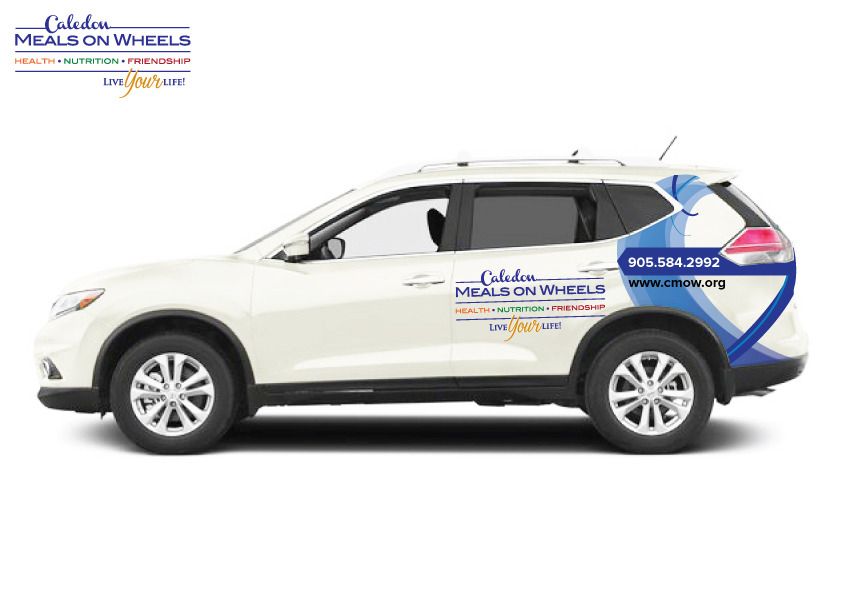 Thanks to the generosity of the Performance Auto Group, the Caledon Meals on Wheels team is delivering meals and attending meetings in style. In Nissan Rogue style! 
Here's how it works….Spot the CMOWbile anywhere and email, post a comment or picture on CMOW's Facebook or Twitter account telling us where and when you saw the CMOWbile. Each comment or picture will constitute an entry for the draw of a $50 gift card. 
Also, every Wednesday throughout November, the CMOWbile will be parked somewhere locally for the day. We'll give you clues to find it so keep following CMOW on Facebook and Twitter.
Keep your eyes peeled and good luck!
Of course there are rules, so please read the fine print.
Entries accepted via Facebook, Twitter or by email at info@cmow.org
Spot the CMOWbile anywhere and email, post on CMOW's Facebook page or Tweet #SpotCMOWbile the location, date and time
Each sighting = 1 contest entry
Take a picture of yourself WITH the CMOWbile and email, post on CMOW's Facebook page or Tweet #SpotCMOWbile the location, date and time. Posts with pictures are entered into the draw TWICE!
NO entries will be accepted if it was evident the picture was taken while driving
 RULES:
By entering a CMOW Contest, you agree to be bound by these Contest Rules. 
Employees of CMOW, such employees' immediate family (father/mother, brother/sister, son/daughter) or persons living under the same roof are not eligible to enter any CMOW Contest.
No purchase necessary to enter a CMOW Contest.
CMOW Contests are open to all Canadian residents who have reached the age of majority in their province or territory of residence.
A random draw will be made by a CMOW representative from all qualifying entries made by the contest deadline of midnight, November 30, 2015.
The winner will be contacted using the contact information provided at the time of entry (eg. telephone number, email address, twitterhandle or Facebook account).
If the winner cannot be reached using the information provided at the time of entry within seven business days, the prize shall be forfeited and CMOW has the right, at its sole discretion, to select another winner.
Prizes shall be accepted as is and may not be exchanged or refunded for an amount of money, sold or transferred.
Winner agrees that CMOW may use their name, image for advertising purposes related to a CMOW Contest free of charge.
The Contest Parties assume no liability for any loss, damage or injury, including without limitation: (i) lost, stolen, delayed, damaged, misdirected, late, destroyed, illegible or incomplete entries; (ii) inability of any person to participate in the Contest for any reason including mistaken addresses on mail or e-mail; technical, computer or telephone malfunctions or other problems with computer on-line systems, servers, access providers, computer equipment, or software; congestion on the internet or at any website, or any combination of the foregoing; (iii) any injury, damage, traffic violation or loss arising from participation in the CMOW contest or from the awarding, acceptance or use of any prize; (iv) any injury, damage or loss to other parties due to participation in the CMOW contest.
All personal information, such as name and contact information, required to enter a CMOW Contest is collected by CMOW solely for the purposes of administering the CMOW Contest and shall not be used for any other purpose without your express consent. By providing this information, you consent to it being used for the stated purposes.
CMOW Contests are not sponsored, endorsed by or administered by Facebook, Twitter or any other Third Party Service. By entering any CMOW Contest, all contestants release all Third Party Services from any liability in connection with such CMOW Contest.
The odds of winning will depend on the number of eligible entries received.
CMOW Contest opens 12:01 AM, November 1, 2015 and ends Midnight, November 30, 2015
  Follow us on Facebook  or Twitter at @CaledonMOW
 For more information about the contest, please call 905.584.2992.
Caledon Meals on Wheels Ski Day 2017
5 February 2017
Read More.
Marlin Travel Orangeville introduces "Give Back" Program
8 October 2016
Read More.
CMOW Gets a Big Lift from PAG
6 October 2016
Read More.